Sark Roots Festival
18th September 2018
We are fresh off the boat from the Sark Roots Festival which took place on a teeny tiny island on the English Channel and where the UK Saadho Sangha shared kirtan, mantra chanting and a set of specially composed English songs by our dear Daisy Bowman. Our crew consisted of Neil, Sonya, Daisy, Abhi, Matt and Mike.
The Island of Sark is unique in that there are no cars on the island. NO CARS!! And if it wasn't for the music festival, the loudest noises would be that coming from nature itself. The air was clean, nature was thriving and the ocean was crystal clear blue.
No wonder that upon looking up at the night sky, the stars were so bright, and so voluminous that you felt that you were in a planetarium. I can't remember seeing the Milky Way so clearly before, with its mysterious misty cloud like blanket wrapping around the stars, nor have I seen so many stars sprinkling the sky, a sure reminder of how tiny we are in this great big wondrous cosmos.
The music festival took place on a large field overlooking the ocean. It was a very pretty festival – beautifully draped teepees consisiting of a healing tent, an eco tent, a music tent, a food tent, a bar and outdoor seating with a games area.
Upon arriving at the music festival the organiser mentioned that there may be accommodation available for 2 people to stay with the King of Sark (his official title is the Seigneur of Sark but we like to call him the king!). Needless to say we jumped at the opportunity. When I say 'we', that means Daisy and Sonya.
The boys stayed at the festival campsite.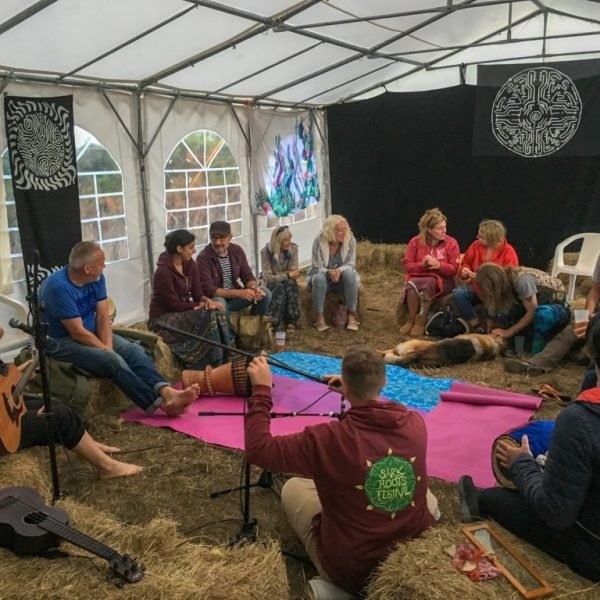 At the music festival we played one set of English songs, and two kirtan sets. The English set (with songs written by Daisy ji) was on the main stage. The music was beautifully received and Daisy's voice as we know can touch your heart in an instance. The feedback we received mostly was that we looked that we were a well gelled group, who love playing together. And this is what we felt too. Playing together in rhythm and harmony was a reflection of the sangha spending time together.
The kirtan was different again this time. Hardly any setting up, no formal beginning. Just a group of people singing our hearts out to the starry sky. People from all around the festival seemed magnetically drawn to sit with this group of seekers singing mantras in a different language and to a deep drum beat, many of whom had never heard of kirtan before. It really felt like a family sitting together. And speaking to each other after sharing such moments of togetherness, meant that we could talk straight from one heart to another and exchange blessings as well as email addresses. This always astounds me. The clicks of connection that take place when our heart is open.
What really touched us was how the festival was organised itself. A beautiful couple (Lazlo and Roz) pour their heart and soul into organising such an event each year to open up the island and share its beauty. This attracts volunteers from all over the world to give their time energy and devotion into making the festival what it is. We saw so many dedicated volunteers in the background keeping things ticking over; maintaining the toilets, cleaning the tents, cooking the most delicious food; running the bar and selling the tickets. Lazlo told us that the first year they ran the festival they made a profit. Last year they just about broke even. This year it looked like they were going to make a significant loss. The marquees they were allowed to use for free last year were sold to another company who charged £1,500 for their use. The music acts were also much more expensive. When met with this predicament, the people Sark donated money to allow the festival to take place. And a massive push to sell tickets meant that in the end the amount of tickets they needed to sell were sold.
To enjoy these moments with our sangha was icing on the cake. Shared experiences make for a deep web of connectedness. What I really noticed was how we took care of each other and supported each other not out of any trying, but naturally… and long may we continue to do so…every step of the way.